Click here to make a submission on the proposed closure.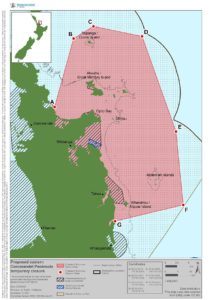 Submissions close 5pm, 17 May 2021. 

Ngāti Hei recently submitted to MPI a request for a two year s186a closure on all (commercial, recreational, customary) scallop harvesting for their entire rohe, which is now open for public consultation.

Anyone is able to make a submission in support or against the proposed closure.

The closure would be two years long and apply to commercial, recreational and customary fisheries along the most of Coromandel coast and including Repanga/Cuvier, Ahuahu/Great Mercury, Ohinau, the Alderman and Whakahau/Slipper Islands (see map).

We are grateful for Ngāti Hei, a local iwi in eastern Coromandel, who have given the Coromandel Scallop Restoration team the perfect opportunity to progress and start planning for long-term management of scallops.

Community initiatives such as the Coromandel Scallop Restoration Programme have raised awareness of depleted shellfish stocks and banning destructive bottom contact fishing methods. 

Moreso, they have sparked nationwide conversations around providing better long-term management of our fish stocks.

Warren Maher, Manager of Tairua-Pauanui Sports Fishing Club represents over 520 people. He states " Our members fish all over the Coromandel for scallops, from Slipper island up to the Mercury islands. We've noticed a decrease in scallop numbers, and recently our members have taken action by no longer recreationally dredging for scallops. We're supportive of Ngāti Hei in taking action to restore scallops over such a wide area."

We strongly support Ngāti Hei in this closure, as we all have the same goal of having more sustainable management of depleted scallop stocks, and a ban of dredging as a harvesting technique.