Moa Beer
Moa has worked their magic and made a special brew to support LegaSea
Moa Beer and LegaSea join forces to save our fisheries
Moa Brewing Company loves beer. They also love fishing and wanted to do something positive to help recreational fishing in New Zealand.
Naturally, Moa turned to LegaSea to see if they could help out. Moa liked what LegaSea is doing to protect and grow New Zealand's fisheries.
So Moa created LegaSea Lager. For every dozen sold, a percentage is donated to LegaSea to help keep recreational fishing alive in New Zealand.
Moa's Executive Chairman, Geoff Ross explains, "Collectively the team at Moa has always had a vested interest in the marine environment. We feel fishing is one of the our most important social occasions. Without an abundance of fish no one will fish and the opportunity to forge friendships while at sea will disappear. That's why we have teamed up with LegaSea. We want to support them and help rebuild our fisheries. We want our kids and our grandkids to be able to enjoy this uniquely Kiwi way of life."
"At Moa, we believe nothing says summer more than dropping a line in the sea and pulling up some magnificent kai moana for the barbecue with our mates, and what better way to wash it all down than a cold LegaSea Lager," Geoff Ross continued.
 LegaSea's Corporate Relations Manager Simon Yates says "The relationship with Moa is significant because it speaks to the growing realisation that New Zealand's fisheries are in crisis. Now, supporting a positive change is as simple as buying a box of LegaSea Lager at the supermarket. Together we can make a difference."
 "Our work is about ensuring we leave the fisheries of New Zealand in better shape than we found them. Unfortunately, that's becoming increasingly difficult. Yet growing support from the public and from organisations like Moa is motivating. It's clear what's at stake. We can make a difference but it will take a little effort from everyone," says Simon.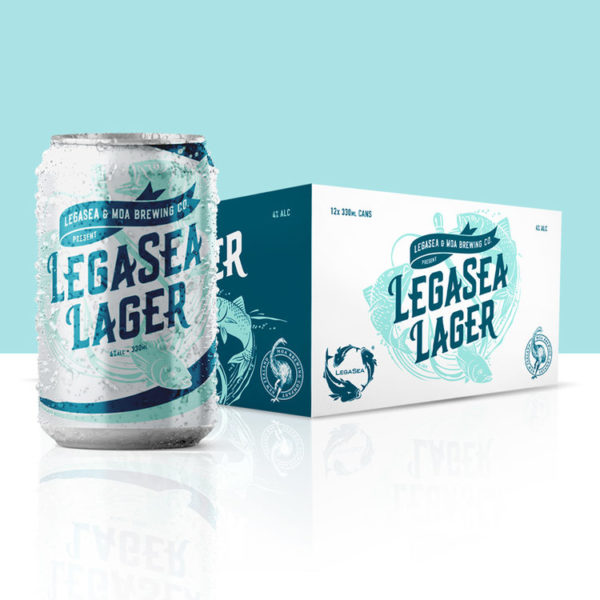 LegSea Lager is now available in 130 stores around the following upper North Island, or you can order it online here.
If it's not in a store near you, visit your local liquor retailer and ask for it by name.  Below is a list of locations that LegaSea Lager is available
| | |
| --- | --- |
| Outlet | Location |
| Snapper Rock Albany Highway Bottle O | Auckland |
| Beachlands Fine Wines | Auckland |
| Botany New World | Auckland |
| Botany PAKnSAVE | Auckland |
| Bottle Stop Beer Shop Ponsonby | Auckland |
| TBO Conifer Grove | Auckland |
| Dominion Road Fine Wines | Auckland |
| Dorchester Liquor | Auckland |
| Eastridge New World | Auckland |
| Farro Oraki | Auckland |
| Farro Lunn Av | Auckland |
| Gilmours Mt Roskill | Auckland |
| Glenfield Bottle O | Auckland |
| Howick New World | Auckland |
| Kanaka Fine Wines | Auckland |
| Liquor Centre Kingsland | Auckland |
| Liquor Centre Station Road | Auckland |
| Liquor Centre Greenhithe | Auckland |
| Liquorland Birkenhead | Auckland |
| LiquorLand Botany | Auckland |
| LiquorLand Boutique Herne Bay | Auckland |
| LiquorLand Boutique Kohimarama | Auckland |
| LiquorLand Boutique Remuera | Auckland |
| LiquorLand Devonport | Auckland |
| Liquorland Mangere Bridge | Auckland |
| LiquorLand Mt Eden | Auckland |
| LiquorLand Onehunga | Auckland |
| Mairangi Bay Fine Wines | Auckland |
| Milford Bottle O | Auckland |
| Mill water  Fine Wines | Auckland |
| Mount Roskill New World | Auckland |
| Ormiston Road Pak n Save | Auckland |
| Papakura New World | Auckland |
| Papakura PAKnSAVE | Auckland |
| Remuera New World | Auckland |
| Richmond Road Liquor | Auckland |
| Rothesay Bay Wine Barrel | Auckland |
| Royal Oak PAKnSAVE | Auckland |
| Super Liquor Browns Bay | Auckland |
| Super Liquor Windsor Park | Auckland |
| Super Liquor Howick | Auckland |
| Super Liquor Devonport | Auckland |
| Super Liquor Sandringham | Auckland |
| Victoria Park New World | Auckland |
| Wairau Pakn Save | Auckland |
| Cheviot Four Square | Cheviot |
| Moorhouse PAK'nSAVE | Christchurch |
| New World Wigram | Christchurch |
| Liquor Centre Clevedon Village | Clevedon |
| Thirsty Liquor Coopers Beach | Coopers Beach |
| Coromandel Four Square | Coromandel Town |
| TBO Dargaville | Dargaville |
| Dunedin PAK'nSAVE | Dunedin |
| Liquorland Andersons Bay | Dunedin |
| Liquor Centre Clevedon Villlage | East Auckland |
| Liquorland Beachlands | East Auckland |
| Frankton Henrys | Frankton |
| Clarance Street PaknSave | Hamilton |
| Hillcrest New World | Hamilton |
| Mill Street PaknSave | Hamilton |
| Rototuna New World | Hamilton |
| Te Rapa New World | Hamilton |
| Hastings New World | Hastings |
| The Bottle O Huapai | Huapai |
| Liquor King Kaitaia | Kaitaia |
| Pak N Save Kapiti | Kapiti |
| Raumati Beach Four Square | Kapiti |
| Four Square Kaeo | Kaeo |
| Kerikeri New World | Kerikeri |
| Liquorland Waipapa | Kerikeri |
| Kumeu New World | Kumeu |
| Four Square Mangonui | Mangonui |
| Morrinsville New World | Morrinsville |
| New World Motueka | Motueka |
| Greenmeadows New World | Napier |
| HBSFC AHURIRI | Napier |
| Liquor Centre Ngunguru | Ngunguru |
| Pak'N Save New Plymouth | New Plymouth |
| Albany New World | North Shore |
| Birkenhead New World | North Shore |
| Browns Bay New World | North Shore |
| LiquorLand Forrest Hill | North Shore |
| TBO Parua Bay | Parua Bay |
| Four Square Paihia | Paihia |
| Broadway New World Supermarket | Palmerston North |
| Gilmours Palmerston North | Palmerston North |
| Freshchoice Picton | Picton |
| Porirua New World Supermarket | Porirua |
| Porirua Pak n Save | Porirua |
| Liquorland Pukekohe | Pukekohe |
| Pukekohe PAKnSAVE | Pukekohe |
| Super Liquor Pukekohe | Pukekohe |
| Liquor Centre Raglan | Raglan |
| Swordfish Club | Russell |
| New World Stoke | Stoke |
| Super Liquor Tairua | Tairua |
| Black Bull Liquor Tairua | Tairua |
| Brookfield New World | Tauranga |
| Cameron Road PAKnSAVE | Tauranga |
| Gate Pa New World | Tauranga |
| Gilmours Tauranga | Tauranga |
| New World Mt Maunganui | Tauranga |
| Tauriko PAKnSAVE | Tauranga |
| The Lakes Four Square | Tauranga |
| Te Awamutu PAKnSAVE | Te Awamutu |
| Super Liquor Thames | Thames |
| Thames PaknSave | Thames |
| Timaru PAK'nSAVE | Timaru |
| Liquor Centre Ngunguru | Tutakaka Coast |
| Super Liquor Twizel | Twizel |
| Liquorland Onetangi | Waiheke |
| Oneroa Four Square | Waiheke |
| Super Liquor Onehunga | Waiheke |
| Super Liquor Waiheke | Waiheke |
| Thirsty Liquor Waiheke | Waiheke |
| Waihi New World | Waihi |
| Waikanae New World Supermarket | Waikanae |
| Liquor Centre Waipu | Waipu |
| Liquorland Waiuku | Waiuku |
| Waiuku New World | Waiuku |
| Warkworth Gamefish Club | Warkworth |
| Warkworth New World | Warkworth |
| Island Bay New World Supermarket | Wellington |
| Miramar New World Supermarket | Wellington |
| Moore Wilsons Wellington | Wellington |
| Pak N Save Kilbirnie | Wellington |
| Thorndon New World Supermarket | Wellington |
| Whakatane New World | Whakatane |
| Whakatane Sword Fish Club | Whakatane |
| Super Liquor Whangamata | Whangamata |
| Whangamata New World | Whangamata |
| Super Liquor Whangaparoa | Whangaparoa |
| Regent New World | Whangarei |
| Whangarei PAK n SAVE | Whangarei |
| Boulevard Liquor Whitianga (liquor centre Whitianga) | Whitianga |
| Liquor Centre Whitianga | Whitianga |
| Mercury Bay Game Fish Club | Whitianga |
| Super Liquor Mercury Bay | Whitianga |
| Super Liquor Whitianga | Whitianga |
| Whitianga New World | Whitianga |