Scallop numbers have declined so much around the top of the South Island that the Minister for Primary Industries, Nathan Guy, has agreed with LegaSea and closed the Scallop 7 fishery until a rebuild occurs. The fishery has been closed for the 2016/17 and new management measures will be worked out between now and July 2017 when the fishery may be reopened.
Long overdue, Nathan Guy's decision finally takes the first step towards repairing a fishery that is teetering on the brink of collapse. SCA 7 has been shown for many years to be steadily declining in abundance with little being done in response, except for a recent cut to the commercial catch limit.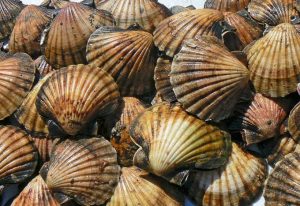 Scallop fisheries highlight how the use of destructive fishing practices, such as dragging industrial dredges across the fragile seabed, is damaging the ability of species to replenish their populations.
Scallop beds generally form on muddy bottoms which have been covered by a hard layer of broken shells. These broken shells give areas for the larvae to settle and grow, when they eventually die and create more shells for the bed. When large dredges are pulled through these areas the sediment below is suspended.
When large dredges are pulled through these areas the sediment below is suspended. Eventually, it settles, covering the shells, leaving no viable settlement areas for future larvae. This is how sustained dredging of a once productive scallop bed can eventually wipe it out for good.
This example further demonstrates how the "world-leading" quota management system, in place here in NZ, is failing to respond to the scientific and anecdotal warnings bells that have been ringing out telling someone to take action, before it is too late.
The QMS is tailored to ensuring maximum commercial gain through "sustainable depletion" but it fails to address our needs. We as New Zealanders deserve the right to have confidence that our fisheries management system will react in our best interest and protect what belongs to us long into the future. Maintaining a healthy ecosystem is the number one priority for a fisheries management system, the QMS has repeatedly shown that it is not reliably able to do this.
LegaSea applauds Nathan Guy for taking the first step in restoring Scallop 7 and encourages him to continue to ensure the ongoing improvement to the health of this precious fishery. We also await the announcement of his decisions for Paua, John Dory and Snapper 7.