Welcome to the FryUp – a regular look back at the week of fishing in the news. 
It's official. It's all our fault.
That's right – never mind the trawlers, the overfishing and the dumping. Apparently the biggest risk to our fisheries future is recreational fishers and we need to regulate them at once.
That's according to the findings of an economic report put out by the New Zealand Initiative, a think tank that has looked at what's really troubling the fisheries sector.
Here at the FryUp HQ we've analysed the economic data presented by the Initiative in its damning report (more than 80 pages including those intentionally left blank) and here's what it boils down to:
1: New Zealanders love to go fishing.
2: More people are moving to New Zealand.
3: If those people love fishing as much as New Zealanders do today then they'll go fishing.
4: That's it.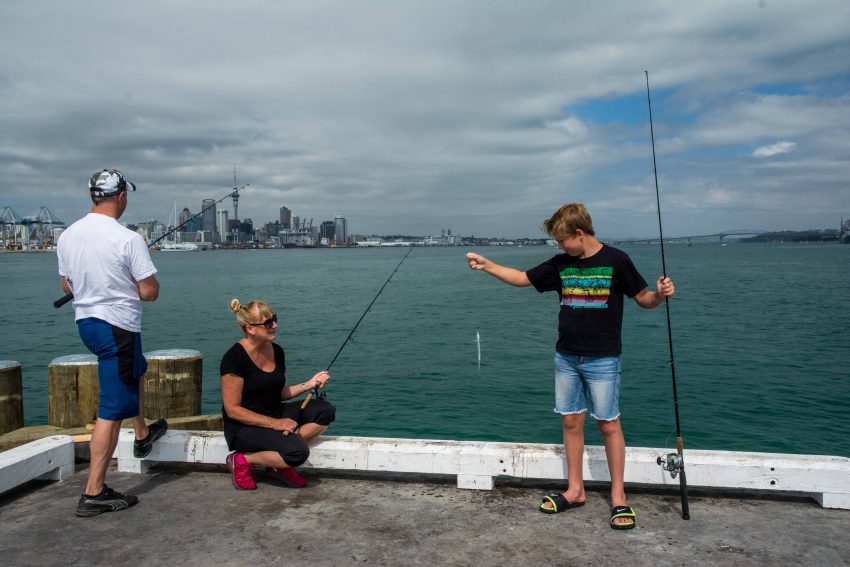 Yes, the entire argument boils down to "if the population increases more people will enjoy fishing" and that, apparently, means we must introduce lower catch numbers, more controls on individuals and presumably drones ready to strike unsuspecting boaties puttering about the harbour with a rod out the back.
We had hoped to see more economic analysis, more data and some attempt to perhaps consider the impact that industrial fishing has (given they account for, you know, 94% of the fish taken from our seas each year), but no. In fact the Initiative's very first fact ("On a typical summer's day up to how many recreational vessels can be out in New Zealand recreational waters?") in it's handy pop-up quiz is completely wrong and the real answer, supplied by NIWA's boat ramp surveys and aerial flights, is nowhere near the number quoted.
But never let the facts get in the way, eh?
What the report has actually done is alert a large percentage of the New Zealand media to the issue of overfishing and dumping and that's no bad thing. As LegaSea's Scott Macindoe says, it is time we all stepped up and did our bit to ensure we have an abundant fishery for the future. That means fishing smarter, considering our impact on the environment and if we have to close a fishery in order to rebuild the stock levels so be it.
But of course, we recreational fishers already knew that.
Newshub – Population growth 'doesn't look good for future of fishing'
Stuff – Recreational fishing facing further restrictions as fish stocks diminish
RNZ – Recreational fishers part of the problem – report
NZ Herald – Stricter bag limits for fishers inevitable – report
Paul Henry Show – Over-fishing warning in NZ – commercial fishermen targeted
Newshub – 'Target the big boys': Response to report on state of recreational fishing
NZ Initiative – Will there be plenty of fish in the sea?
Ministry allows industry to monitor itself
The Ministry for Primary Industries (MPI) has awarded the contract for fisheries monitoring, including cameras on boats, to Trident, a company owned by the fishing industry. Sanford, the country's largest fishing company run by Peter Goodfellow, owns 43% of Trident Systems, which won the contract in May.
However, competing technology provider Archipelago Marine Research from Canada says that lack of independence is precisely the reason why Trident wouldn't have been acceptable in the United States, Canada or Australia.
Archipelago Vice President Howard McElderry says the decision lacks objectivity.
In the New Zealand Herald, McElderry is quoted as saying, "The public should be concerned when companies providing monitoring services are not independent from the industry they monitor."
"Organisations responsible for monitoring fisheries are challenged in their role because the information they collect can limit economic opportunity for the fishing enterprises being monitored."
We've considered what introducing similar schemes in other industry sectors would look like, because if it works for fish then it surely it would work for just about anything?
So, would we expect to see car Warrants of Fitness handed out by taxi drivers?
Or food safety ratings awarded by restaurants and cafés?
And prescriptions written out by drug addicts?
It's OK because if anything goes wrong because the Ministry will be overseeing it and will step in.
Minister, you're being sold a pup.
You deserve better advice than you're getting and frankly we think you should call MPI in and give them a roasting.
Letting an industry build its own monitoring regime isn't an oversight, it's a risk, and the people of New Zealand deserve better.
NZ Herald – Fishing watchdog compromised, Government told
Fine tuning for another year
By the time you read this FryUp the New Zealand Sport Fishing Council AGM will be well underway in Whangamata.
The Council is the oldest of the recreational fishing groups in the land and takes an active role in fisheries management and research. Whenever government and industry get together the NZSFC plays a vital role in representing the interests of its members and recreational fishers. LegaSea, the Council's outreach initiative, helps to communicate these important issues to the wider population.
But we can't do it without your help.
LegaSea needs your support to keep banging this drum. Whether the issue is snapper catch limits, the possible extinction of crayfish, inshore trawling, bycatch or dumping, keeping the pressure on is essential and unfortunately it's not cheap.
Please tell all your friends about the work we're doing and point them to the Legends page if they're keen to play a part. The donation buttons are below and should take you through to our gorgeous new website. Feel free to share it far and wide on social media or down at the boat ramp and with your help and support we can make sure your voice is heard.
LegaSea – Legend