News that the Ministry for Primary Industries has failed to ensure cameras being installed on fishing boats are fit for purpose is just the latest in a series of failures by the ministry in overseeing New Zealand's fisheries. Newshub's Michael Morrah has uncovered an MPI report that suggests the cameras being installed to monitor fishing activity are not adequate, and evidence gathered by the cameras is not likely to be admissible in court.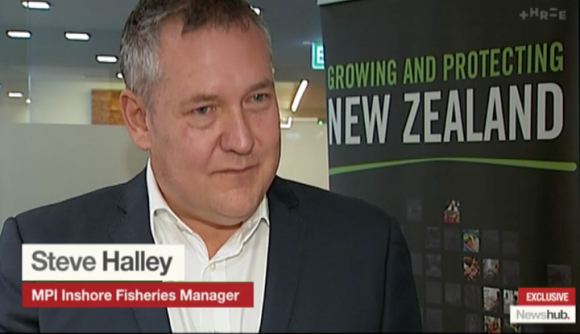 Once again the Ministry has rubbished its own report's findings and claims there is no problem with its oversight of the industry.
LegaSea believes there is a systemic problem with New Zealand's fisheries that can only be addressed through a Royal Commission of Inquiry and that this latest gaffe is evidence of a broader problem within the Ministry.
"We have been told that New Zealand's fishing management process is world leading, yet mounting evidence would suggest otherwise. First we had the Hippocamp and Achilles reports that were buried by the ministry. Those reports showed flagrant dumping of catch and illegal activity. No action was taken because of "legal advice" to the Ministry, subsequent investigations forced MPI to admit that advice never existed. We've been told fishing skippers are prosecuted for dumping offences, but since 2009 only four such prosecutions have been brought. It is clear that the Ministry is incapable of providing the oversight this industry needs," says LegaSea spokesman Scott Macindoe.
LegaSea has called for a Royal Commission of Inquiry given the ongoing and complex nature of the problems that are affecting the Ministry's ability to act in an impartial manner, in the public interest.
A Commission of Inquiry must meet certain thresholds to be implemented:
there is considerable public anxiety about the matter
a major lapse in Government performance appears to be involved
circumstances giving rise to the inquiry are unique with few or no precedents
the issue cannot be dealt with through the normal machinery of Government or through the criminal or civil courts
the issue is in an area too new, complex or controversial for mature policy decisions to be taken.
"The Ministry has had every chance to put its house in order and yet still we are told there is no problem and that the reports we are seeing are either shoddy, misunderstood or just plain wrong. There is simply too much evidence to support that view, and that the Ministry continues to mislead its Minister and the public is unacceptable. LegaSea calls for a full Royal Commission of Inquiry to get to the bottom of the relationship between MPI and the industry, and to help reform fisheries management so the public can trust the Ministry to do the right thing by future generations. We must have an inquiry and stop the rot before it is too late."
For more information please contact:
Paul Brislen
[email protected]
TIMELINE OF EVENTS
May 2016
University of Auckland's catch reconstruction report released.
New Zealand's fishery catch of the last 50 years estimated at 2.7 times more than reported.
Report attacked by industry as being misleading.
LegaSea respond to the report calling for an urgent review of the QMS and of MPI's role in overseeing the fishing industry.
EDS call for a wider review of NZ's fisheries management system.
Government appoints Michael Heron QC to review decision not to prosecute those filmed dumping fish. LegaSea says the Heron review is not enough, only a full review of the QMS will be enough to allay public concerns about Ministry capture by the fishing industry.
The catch reconstruction report also refers to MPI's own investigators' concerns about the level of fish dumping for the first time.
MPI awards contract to place cameras on boats to monitor for illegal fish dumping and under reported catch of protected species to Trident, a company wholly-owned by the fishing industry.
LegaSea questions who is running New Zealand's fisheries and urges the Minister to establish an independent inquiry with broad terms of reference.
September 2016
Heron report reveals MPI decision not to prosecute was "flawed", recommends changes to the way MPI reacts in future.
The report also shows MPI were fearful of the reaction by the public and the commercial fishers themselves if they did prosecute.
The report also reveals senior MPI managers believe dumping of fish is so widespread half the inshore trawl fleet would go out of business if the law was enforced.
November 2016
MPI forced to admit that up to 80 percent of the cameras installed on snapper trawlers to police fish dumping failed during their first three months of use.
Footage from some vessels has been missing for up to a month.
December 2016
MPI forced to reveal that only four cases of fish dumping have been brought before the courts since 2009.
April 2017
University of Auckland researchers reveal MPI refuses to release information relating to 14 more operations that detail the Ministry's investigations into reporting and fish dumping.
MPI's relationship with industry questioned further after it is revealed MPI has outsourced administration and data management for large parts of its daily activity to a company wholly-owned by the fishing industry.
The Ombudsman's Office has forced MPI to reveal that the legal advice it relied on to avoid prosecuting those industrial fishers filmed dumping fish doesn't exist and never had.
June 2017
A new leaked MPI report suggests the cameras being installed on boats by the industry owned business, Trident, won't have the resolution needed to provide footage able to be used in court.