It's with great delight that LegaSea congratulates its partner organisation, the Royal New Zealand Yacht Squadron, on the Team New Zealand win this morning in the America's Cup. LegaSea and the Royal New Zealand Yacht Squadron are committed to New Zealand's waterways, and to ensuring generations of New Zealanders as yet unborn can continue to sail, to fish, and enjoy New Zealand's wonderful outdoors.



Spokesman Scott Macindoe says he's delighted to see Team New Zealand win through on the day. "It's a testament to the team's grit and determination that they won the Auld Mug back for New Zealand. We're delighted for the Yacht Squadron who have a space in their trophy cabinet for sport's oldest trophy and we'll cheer them in on their return."
Macindoe says LegaSea has a close relationship with New Zealand's premiere yachting organisation and with a number of the crew.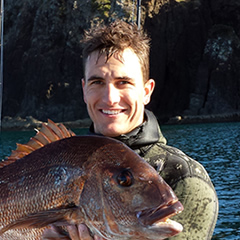 "Blair Tuke is a LegaSea legend and along with his fellow sailors including Peter Burling, has done New Zealand proud over the years. The boys did well at the Olympics and we're so proud of Peter becoming the youngest sailor to win the America's Cup."