Pirates illegally fishing in Pacific waters have been busted and fined almost a million dollars after taking more than a hundred tonnes of southern bluefin tuna. Two Chinese-flagged vessels were involved in this case, which experts suspect is just a drop in the ocean compared to the illicit exploitation occurring on the high seas.
Thankfully Greenpeace New Zealand has been actively patrolling Pacific waters for decades, spending millions on vessel monitoring, boarding operations, and reporting illegal activity to the authorities. One of the Chinese vessels was already on Greenpeace's blacklist for offences classed as "fish laundering". Their blacklist is now recognised as a credible source of violations, misreporting and cover-ups, including fudging documents by changing vessel names and recorded areas of fishing.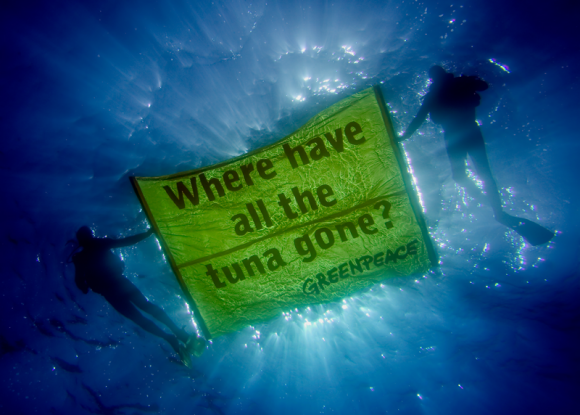 Karli Thomas, Greenpeace's previous ocean campaigner, and her team have set sail many times on missions to expose such theft and environmental damage. These warriors act in good faith despite having refuse dumped on them, being water bombed, run down and threatened. Then it's out of the wet weather gear and life jackets and into the boardroom.
Conferences, symposiums, and endless volunteer coordination roles, are part of the everyday struggle to bring balance to the management and lobbyist 'games' being played by corporate raiders determined to harvest as many fish as possible.
Consumer power has also been harnessed by groups such as Greenpeace. The spotlight is now on suppliers and retailers to better monitor the source of the fish they sell, and ensure traceability from ship to plate.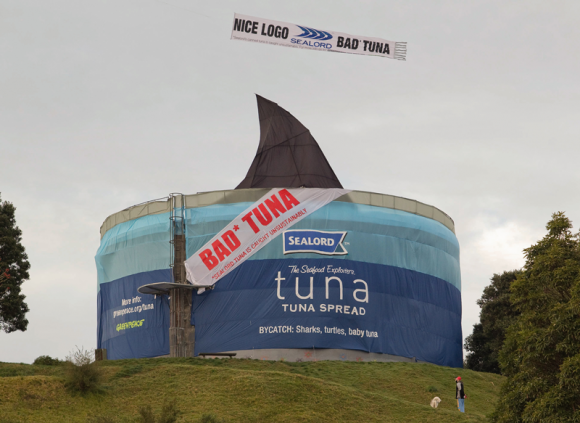 The FAD-Free Tuna campaign is one of many Greenpeace has used to significantly reduce the use of destructive fishing methods and help minimise the risk of labour abuse in seafood supply chains.
Greenpeace operates worldwide and the work they do in protecting Pacific and Antarctic waters brings benefits to New Zealand. Their work helps to protect fish stocks and marine ecosystems, enhances the relationships with our Pacific neighbours, ensuring a better world for future generations.
Protecting deep-sea fisheries is not easy. Forest & Bird and more recently representatives from the Environmental and Conservation Organisations of Aotearoa New Zealand (ECO), have spent years pushing for principled and precautionary fisheries management.
Clive Monds, an ECO stalwart, was instrumental in shaping the 1996 Fisheries Act, which was world-leading at the time for its precautionary principles and statutory need to provide for the wellbeings of all New Zealanders.
Working alongside Clive were Cath Wallace and Barry Weeber, of Forest & Bird and now ECO.  This pair is still actively involved in Antarctic fisheries, exposing the rort that is orange roughy management, and bringing a WTF type attitude to the table as industrial fishers seek to rip the last remnants of once-healthy populations out of the sea.
These representatives and many more unnamed souls have dedicated their lives to making sure managers err on the side of caution, yet these efforts go largely unrecognised and unrewarded. LegaSea will be forever grateful for the years of work by these environmental warriors, because it is through their efforts that we will have a legacy – more fish in the water – something worthwhile to pass onto our mokopuna, our future generations.
For more information please contact:
Paul Brislen
[email protected]
Other references
LegaSea – more fish in the water
Newshub – Fishing company banned after hauling endangered tuna in Pacific
NZ Herald – Chinese vessel caught illegally fishing near New Zealand territory
Greenpeace – The problem with tuna
Greenpeace – Greenpeace New Zealand
ECO –  Nothing to celebrate in orange roughy certification (page 8)
ECO –  ECO's role in Antarctic conservation work
Forest & Bird – Marine advocacy