Starting on 15th July a NIWA trawler will be testing a new net designed to reduce both the catch of small fish and environmental impacts. The Kaharoa will be working inshore between Whangaroa, East Northland, and Tairua in the eastern Bay of Plenty.
The Kaharoa is 28 metres long with a blue hull and white top sides.
An increase in small fish mortality is expected during the trials so you may see more small fish floating on the surface than is normal.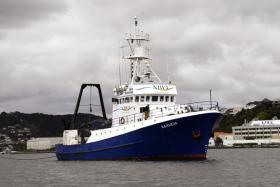 LegaSea is aware that the researchers will be retaining and counting the numbers of small fish caught in the trials, the small fish will then be returned to the sea. The catch of small snapper will be reported daily to the Ministry for Primary Industries (MPI). Legal sized fish will be brought to shore and counted against the annual commercial catch limit.
These trials are being conducted by NIWA, independent of commercial fishers who developed the new trawl nets with help from taxpayer money, via the Government's Primary Growth Partnership programme. NIWA has been granted a special permit to operate a vessel this size in the northeastern area. A condition of the permit is that they are required to discard undersized fish, as per standard procedures for other commercial fishing vessels.
The research will probably take several weeks and the results will be available at a later date.
More information on the Precision Seafood Harvesting net trial programme is here.