LegaSea was honoured to receive a thousand dollar donation from the Hauraki Gulf Sportfishing Club recently. This is a club of less than a hundred members, all of whom are committed to ensuring a better fishing experience in the future.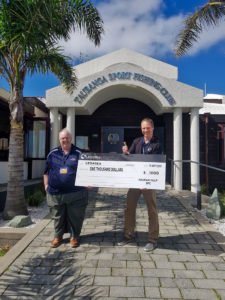 Club representative Peter Stewart took the opportunity to hand the $1000 cheque over to the LegaSea team at last month's New Zealand Sport Fishing Council Annual General Meeting in Tauranga.We
"We appreciate the work that LegaSea does on behalf of our club members and all fishers and we wanted to recognise their effort. It is so important that the public are aware of the mismanagement of our fisheries and what can be done to make it better. LegaSea is the best we've got when it comes to public profile."
Sam Woolford, LegaSea's Fundraising Lead, acknowledges the Club for their generosity over many years.
"LegaSea appreciates it's not easy for clubs these days to stay afloat, so to receive a substantial gift from a small club of 60 odd members is a beautiful shot in the arm for LegaSea and we are humbled by their generosity."
It's not the first time that the Hauraki Gulf Sportfishing Club has stepped up either, they have made similar, sizable contributions over the past five years.
Using donated funds and the support of our many Partners LegaSea will continue to strive for abundant fisheries and a Royal Commission of Inquiry into fisheries management and the Quota Management System.