The recent Hutchwilco New Zealand Boat show in Auckland was our most successful yet and LegaSea is grateful to the organisers and Dave Gibbs in particular for his, and their ongoing generosity. LegaSea simply couldn't afford to be at the show in such a fulsome manner without their support.
If you were one of the thousands of people who came onto the stand to say hello, share your experiences and add a fish to the ITM Sea Wall, thanks. It is your engagement that really fires up the team. Even weeks later our volunteers and LegaSea team are still buzzing with excitement.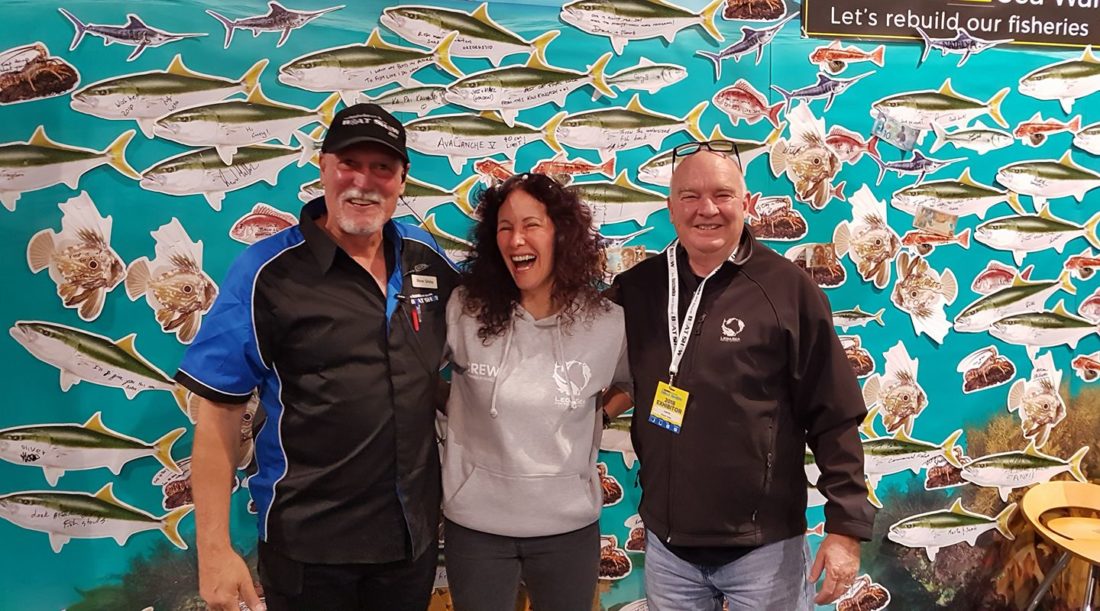 The organisers gifted LegaSea a prime corner stand where the team was able to present a professional image while also offering a level of interactive engagement. The ITM Sea Wall continues to be a hit, attracting hundreds of donations and engaging people of all ages.
In return for a small contribution, donors could choose a cardboard snapper, crayfish, gurnard, kahawai, john dory, kingfish or marlin. Supporters could write a message of support on their chosen fish, sign it or just stick it on the Sea Wall. One fish at a time people were able to demonstrate how much they share in the goal of achieving more abundant fisheries.
By the end of the 4-day show the Sea Wall fish were four-deep in places. Even better, people left the show with a better understanding of what LegaSea is all about and why it's important to stand together. When people realised how easy it is to make a difference, they were happy to subscribe to LegaSea. Hundreds signed up and some went the whole way, committing to become a LegaSea Legend by making an affordable monthly contribution.
LegaSea is energised by this level of support from individuals, the Hutchwilco New Zealand Boat show, and our growing team of Partners. Best of all, it gives our team the confidence to keep working towards restoring marine abundance so all Kiwis both now and in the future get a fair go.