New Zealand's recreational harvest surveys have been internationally recognised as being high quality. Experts have agreed that the methods used are robust, producing reliable results suitable for use in management decisions. LegaSea is pleased the peer-reviewed science has now been published, leaving no excuses for anyone to be spreading the old adage that 'we don't know what recreational fishers catch'.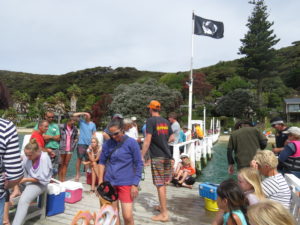 Earlier this year a scientific paper describing the methods used in the Fisheries New Zealand 2011-12 recreational harvest survey was published in the prestigious peer-reviewed journal, Fisheries Research. The paper described the methods and results from three concurrent surveys that corroborated the harvest estimates for recreational fishing. Two new 12-month surveys are underway now. The new estimates and direct comparisons with the 2011-12 results will be available in 2019.
Elephants and gurnard
In a recent submission to Fisheries New Zealand our New Zealand Sport Fishing Council fisheries team provided conditional support for a Total Allowable Commercial Catch (TACC) increase in the southern elephant fish stock, ELE 3. This support was based on the need to increase compliance, reduce wastage, and increase the recreational allowance from 5 to 15 tonnes.
The increased allowance is to better align management with the most recent harvest estimates. We also submitted that the Minister has a statutory obligation to 'allow for' recreational interests so we expect an update to the overall allowance when the next harvest estimates are available in 2019. A similar review of the southern gurnard (GUR 3) recreational allowance will be required when the new estimates are available.
Ultimately, elephant fish and gurnard are a food fishery sustaining local recreational fishers. These stocks need to be maintained at healthy levels to meet Ministerial obligations, and so the locals can provide for their own social, economic and cultural wellbeing from fishing.
Kingfish
Numbers of kingfish in southern waters has increased in recent years. In a recent submission our team supported the Minister increasing the TACC and the allowances for non-commercial fishing in the area from the Clarence River down the coast and around to Fiordland. We stressed the need for monitoring and reporting of commercial catch to ensure commercial fishers only use the increase to cover unavoidable bycatch.
We also highlighted that it is the use of non-selective commercial fishing methods that has led to commercial catches exceeding the TACC. These methods must be removed from our inshore waters if we are to protect our valuable fish stocks for future generations.
A Ministerial decision for all the stocks recently reviewed is expected before October.