It is not very often we get to celebrate good news in fisheries management but it's worth popping the corks for this conservation initiative. In September the 34,000 strong New Zealand Sport Fishing Council announced it was promoting a voluntary reduction of the recreational crayfish bag limit in the Hauraki Gulf and Bay of Plenty. The New Zealand Underwater Association and Spearfishing New Zealand are supporting this effort on behalf of their members.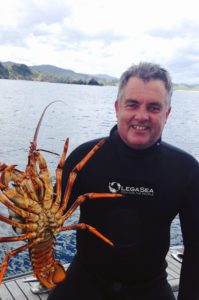 At the request of its members the Council is promoting a voluntary reduction of catch, from the maximum daily limit from six to three crayfish per person, per day, from now until April 2019. New regulations and a lower daily bag limit are expected to apply in this CRA 2 management area from April. However, these organisations are asking fishers not to wait, encouraging their members and the wider public to assist with the early stages of rebuilding CRA 2 now.
Rock lobster in CRA 2 have been depleted to an all-time low level. This is a consequence of overfishing and poor management. As many of you have told us, your access to reasonable numbers and size crays has diminished over time. 42% of respondents in our last poll supported a total closure of CRA 2 for a time, to enable the fishery to recover. Instead, the Minister Stuart Nash decided in April this year to reduce the Total Allowable Commercial Catch from 200 to 80 tonnes per year.
Reducing the amateur bag limit now will help the rebuild leading up to the next spawning season and show a willingness by recreational fishers to leave crayfish in the water. It will also enable more people to share the benefits of a rapid stock rebuild, while maintaining a conservative total catch.
It has been years since we enjoyed an abundant crayfish stock in the Hauraki Gulf and Bay of Plenty, and we can contribute to its rebuild. We need to make maximum use of the fish we harvest and enjoy the benefits of sharing our catch with the special people in our lives.
South Island restrictions
Crayfish is an important species in the Canterbury and Marlborough areas (CRA 5) for all sectors. Poaching of crayfish is a problem in some areas due to high catch rates and easy access.
Since 2014, telson clipping (cutting the middle tail fin), an accumulation limit, and bag and tag conditions have applied to recreational fishers around Kaikoura. In August, Fisheries New Zealand proposed to extend these measures to all areas of CRA 5, in an effort to combat poaching.
In October the New Zealand Sport Fishing Council-LegaSea submitted it did not support telson clipping as an effective measure to address large-scale poaching. Despite several requests to the Ministry for evidence on the utility of telson clipping, none has been provided. The submission supported clearly identifying legitimate commercial catch as the most practical way of reducing illegal sales. Fulsome support was given to the proposed accumulation limit of 18 crayfish, and bag and tag for several day's catch. A Ministerial decision is expected before years end.