Locals in the northern Bay of Islands have succeeded in getting legal protection for mussels around the Black Rocks and out to the Ninepin. The Minister of Fisheries Stuart Nash has approved a bylaw that prohibits anyone taking green-lipped, blue and black mussels from within the Te Puna Mataitai, from March 23rd, 2020. The bylaw will be in place for a minimum of three years, with ongoing monitoring of mussel growth.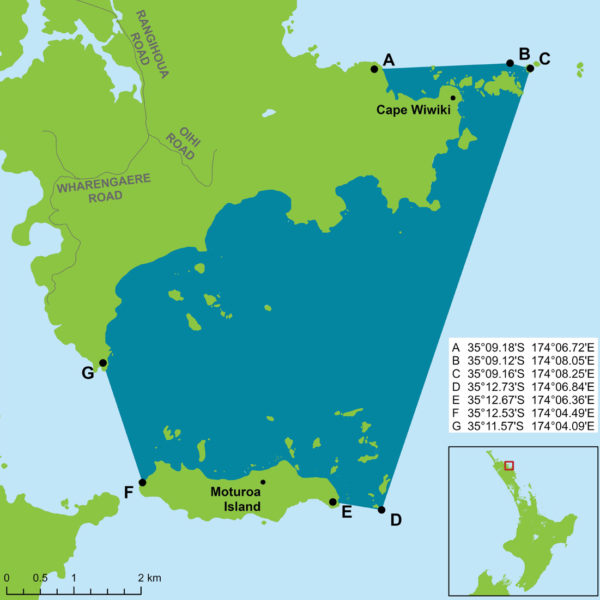 Over the past few years the Te Puna Mataitai kaitiaki (guardians) have been concerned about the numbers of mussels dying in the Bay, particularly around the Te Puna Mataitai.
Tauwhara Marae hosted a hui in 2018 to discuss issues with the local community. At the December 2019 hui there was a range of views on what was causing the mussel depletion. These ranged from natural causes to land runoff, with overharvesting being the primary cause.
Experienced divers advised there were areas throughout the Bay of Islands where mussel shells were a metre deep on the seabed. This indicated natural mortality was high. The Black Rocks area was considered to be providing breeding spat for the Bay so it was important to protect the juvenile mussels so they could repopulate the rest of the islands.
A positive outcome of the December hui was the commitment of various groups to assist the kaitiaki in their role as guardians of the Te Puna Mataitai. The guardians are a committee of representatives from each hapu in the area, from Takou Bay in the north down to the Bay of Islands.
Te Komiti Kaitiaki Whakature o Nga Taonga o Tangaroa is responsible for protecting the area for current and future generations. The Mataitai covers 19 square kilometres, extending from the Te Puna Inlet to Moturoa Island, commonly known as the Black Rocks, and out to Cape Wikiwiki, the Ninepin. It was established in 2013.
Representatives from the Bay of Islands Swordfish Club, Spearfishing New Zealand, Fish Forever and LegaSea all contributed to the hui discussions. Swordfish Club president Jeff Douglas supported the resolution to recommend the bylaw to the fisheries Minister, and Spearfishing New Zealand representative Graeme Heapy added his group's support to the resolution.
Two MPI representatives attended the hui providing advice and assurance that they would proceed with the resolution from the hui. Stuart Nash was subsequently advised of the hui outcome and community support for the closure.
Success has been achieved largely due to the commitment of all involved to acknowledge and support the traditional guardians of the northern Bay of Islands. Te Komiti has embraced its local community, listening to their concerns and working together to find solutions.
We won't know for several years if the bylaw is successful in helping to regenerate mussel populations however, we do know that this process has already succeeded in uniting the community in protecting the marine environment for the benefit of everyone. Kia kaha.
Te Puna Mataitai. Background information