Reel Questions is a commentary series providing an insight to the opinions and experiences of individuals who have ties with our fish life and marine environment whether it be their livelihood, playground, creative influence, culture or simply a part of their lives. They all have a varied relationship with our coast and fish. We ask them some key questions and share their answers with you.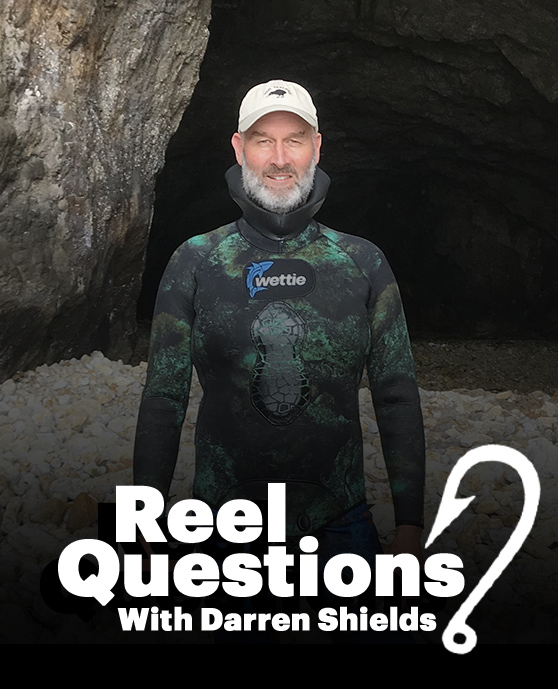 Darren Shields –  6 times New Zealand spearfishing champion and owner of Wettie, diving and spear fishing specialists.
Darren swam his first NZ Spearfishing National Champs back in 1979. Since then he has gone on to be 6 Times NZ Spearfishing Champ and represented NZ at multiple InterPacific Champs and 4 World Champs and recently lead teams to take out the American Freshwater International Champs. He has a proven background in business development and currently heads a family business, Wettie, within the dive industry.
1. Do you recall the first time you ever went fishing?
At Matai Bay with my old man when I was 5 years old. That was 49 years ago. We jumped in and within minutes were surrounded by a school of big kingfish. I couldn't believe what I was seeing – fish as big as me, probably 20 to 30kg. Dad had the gun. He shot and missed one, then re-loaded and shot another while I watched in awe. There was no internet back then, so it was the first time I'd ever seen anything like it.
2. If you were able to do it today in the same place will the experience be any different?
I still remember where that spot is. If you went there today, the kingfish would be smaller and you wouldn't see the same volume as there were in my youth. I've been running spear fishing businesses for 25 to 30 years. Monday morning was always 'bent spear day'. Everyone would bring in their guns to get a new spear because theirs had been bent. It's unheard of now – those big fish are gone.
3. What is your favourite way of preparing your fish for the table?
My favourite fish to eat is trevally and my favourite dish is Tahitian fish salad. It's pretty simple, you put raw fish in lemon juice for 3 to 5 minutes at most, drain the juice off and mix in vegetables, olive oil and salt and pepper. There's nothing better. I hate seeing trevally used for bait.
4. What do you feel are the biggest issues facing the future of fishing in New Zealand?
Population increase and the associated increased value of commercial seafood product. That puts pressure on the government to allow more fish to be caught and creates a downward spiral.
5. If you were the Minister of Fisheries right now what would you do first and what would you wish to be remembered for?

I would clear away all the static of everybody's opinions and just have a look at the fish and think, "What is best for the fish?" Not what is best for recreational or commercial fishing because if you get things right, both will do well. It won't be easy to fix, but I'd like to be remembered as the guy that said, "It's time we forgot about our own interests and looked at what's best for the fish."
6. What does the Quota Management System mean to you?
The QMS doesn't work. I've spent 50 years underwater and we're hardly seeing any tarakihi or John Dory anymore. I've got footage of a reef where every time you went fishing, you'd find a big school of tarakihi. We don't go there anymore. It's barren. There's nothing there but fishing lines criss-crossing the reef. The recreational system's not working either. We're taking too many fish.
The other thing that doesn't sit right with me is that with the QMS, you only have to buy your quota once and then you can catch and sell it forever. With my diving gear business, I have to buy the stock every year and on-sell it. I don't understand why commercial fishers don't have to buy their stock every year like me.
7. What do you think fishing will be like in New Zealand 100 years from now?
If the QMS stays as it is, there will be hardly any fish and you'll see the vast underwater deserts like we see in Europe. If our population continues to grow and we don't make some major changes to our fisheries management, my great-grandchildren will never see what I've seen.
8. What impact do you think Covid-19 will have on the way we manage our fisheries?
Sitting on my deck here at Waiake Beach in Torbay, I've noticed a big change in the attitudes of the fish since the lockdown. They're coming in shallower and seem more relaxed. There's fish everywhere. In the first week there was still lots of people going out on kayaks and paddleboards. A policeman on a jetski was going out every day chasing people off the water. Because I spend a lot of time underwater, I know what it's like for fish when boats pass overhead. I liken it to being at the end of an airport runway while planes take off and land above you. Fish have to put up with that all day. But in the last two weeks it's really quietened down.
9. Do you think the QMS will be able to cope with a post Covid-19 economy or is it a time to look at alternatives?
This lockdown has probably been the first time we haven't been able to touch the fishery for this long. Hopefully we'll all appreciate this wonderful resource a lot more as a result. So many people just want a fast buck or more than their fair share. While Covid-19 is a terrible thing, hopefully it has given people a chance to take a big deep breath and really think about this planet we're on and how much we need to look after it.
10. Whilst fishing has been restricted during the Covid-19 lockdown have you done anything fishing related?
Like Winston Peters, I've been able to fish from home with a rod I borrowed from a mate before the lockdown. I dropped a line off my deck and caught two snapper. My diving gear business, Wettie, has been going well during lockdown. We've had enough online purchases to give us several days' work to go back to and I've just sold two charter trips to Fiordland next year in record time. People have realised they won't be able to travel internationally, so they're planning domestic travel. I'm a great believer in seeing New Zealand before you see the rest of the world. I've travelled the world diving, and it is the best by a long way. Another area I'm looking to build is family snorkelling trips to marine reserves – getting people to see how good it can be and then going outside the reserve to see the reality.