Reel Questions is a commentary series providing an insight to the opinions and experiences of individuals who have ties with our fish life and marine environment whether it be their livelihood, playground, creative influence, culture or simply a part of their lives. They all have a varied relationship with our coast and fish. We ask them some key questions and share their answers with you.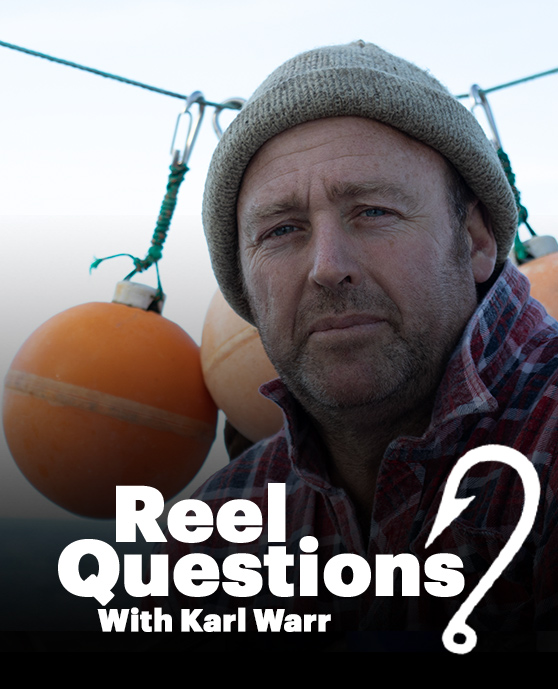 Karl Warr is a life long commercial fisherman operating out of Napier. He has been recognised as an innovator as he utilises a stainless steel cage system for fishing which he invented himself. The cage is towed but flies off the bottom minimising any bottom contact. The cage is made of smooth stainless steel, which doesn't pinch or damage the fish as they escape, and it filters fish on the basis of shape and size. He is so confident with his system and the quality of fish that it allows him to catch that has become the first person in the world let alone New Zealand to install cameras on his boat where any member of the public can watch him live while he is actually fishing. Have a look at www.betterfish.co
1. What's your earliest fishing memory?
My grandfather was an avid recreational fisher. He bought a section at Kinloch when it opened in the '60s and built his own plywood cabin boat that we'd take out on Lake Taupo, chasing rainbow trout. My earliest memory would be at about 3 or 4, sitting on my father's lap hanging onto a rod that had nine or ten colours of leadline screaming out the end of it. We also took the same boat out on Tauranga Harbour fishing for snapper with quite heavy lead sinkers, 8 to 12 ozs, and a long trace.
2. If you went back to fish the same spots today, would the experience be the same?
Both sites still have fish and you can still have a neat fishing experience but it's quite different compared to when I was a kid. There's a lot more boats. The harbour's plagued with sea lettuce. The lake water has a lot more sediment in it. In the old days we never took fresh water, we'd just dip the pot in the lake and put it on the boil for tea and coffee. Now it has a lot more particle material.
3. Why did you become a commercial fisher and what's the best thing about it as a livelihood?
I had a back injury and was pretty sore most days. The idea of fishing for a job was that it would help me deal with the discomfort better. You forget about the cares of the world pretty quickly out on the water. I've always had a deep fascination for the magic of the ocean. Everything's working in 3D – birds above, fish underneath. With previous jobs, I always used to find myself watching the clock. With fishing, the day's gone past and the first thing you notice is that it's getting dark.
4. What's your favourite fish to eat and how do you prepare it for your table?
Our 'go to' is generally gurnard. We tend to flour with the skins off, then cook the fillet in panko and butter with a squeeze of lemon, salt and pepper. It's pretty basic, but it's hard to go past. Fish can actually be eaten too fresh. It's a bit like beef – the best eating's after it's aged a couple of days, but only if it's kept at zero degrees from the moment of capture. If you don't take enough ice and get the fish straight into your slurry, every hour at room temperature is a day's shelf life.
5. You fish in the Hawke's Bay. How are the fish stocks? Would you consider them well managed?
I don't see any management based on the ecosystem. It's basically been left to whether it's economical to harvest or not. I'm very concerned about environmental factors like ocean acidification, sea temperatures, sediment and pollutants such as microplastics. My fish stocks have changed significantly. Fish that you'd normally catch in summer in 10m of water are now in 60m of water, so they're leaving that area for some reason.
6. What share of the fish price goes back to the commercial fisher as compared with supermarkets?
A skin-and-boned snapper fillet at store is about $39 per kg or $16 per kg as a whole green weight unprocessed fish. Out of green weight a fisher may get $1.50 per kg from trawl caught and maybe $3.50 per kg from longline caught. The quota holder gets $4.50. The fish processor that sells the whole fish to the supermarket gets around $5 per kg and the supermarket gets around $5 per kg. It takes about 2.5kg of green weight fish to make 1 kg of skinned and boned fillets. Depending on whether the fish processor fillets it or the supermarket there is extra to be made by the processor and or the supermarket as fish fillets get to $39 per kilo. You need to compare apples with apples when talking about how much a fish sells for but the point I am making is that the supermarket generally gets the lion's share. The fisher actually gets the least especially if they have to lease quota from a quota owner and that's where the budget to meet public expectations for fishing well has to be taken from.
7. Around 90% of our fish are exported. What are the returns like there?
We get snookered there too. The returns are very similar to the domestic market, despite the fact the product's sold for a lot more. High end retail customers in Singapore are paying $150 a kg for snapper you'd pay $40 for here. So there's a whole lot of price gouging going on and not enough benefit comes back to help resource fishing companies to fish in better ways. In basic terms there's three slices of the pie: the fisher, the processor and the retailer, so the smart move is to be all three entities.
8. Do you think the Minister of Fisheries is supportive of artisanal fishers to reach those markets and maximise the value of NZ fish?
Everyone I've spoken to is very supportive of the idea of getting more value for our export products but it's being blocked at a fundamental level because you can't access quota to do that with.
9. Do you think the Quota Management System should stay or go?
It should be ruthlessly reevaluated on the basis of whether we're putting our best team on the field. I'm not seeing our industry champions being accountable to social expectations. Our fisheries are a shared resource and the key to that is unity. We as a nation need to get round the table and say, "What are the issues? What needs to be done?" I don't see any use in losing energy arguing. We need to step past that and get to the stage of, "What is the best outcome?"
10. Do you feel the media depictions of your industry are congruent with your experience?
I don't think people understand that some of the product they're buying has come from boats whose crew have gone home with empty pockets. Independent contractors get a share of the trip's outcome, but we don't get any of the working conditions other businesses are expected to live up to. I've put in 10 days of hard work and come back to a fraction of what I would've earned on minimum wage. There's no holiday or sick pay. If you've just had a baby or a death in the family, you're still expected to go to sea.
11. If you were the Minister of Fisheries, what would you do first and what would you wish to be remembered for in that role?
The first thing I'd do was bring transparency and accountability to the picture. We're holding ourselves up as world leaders and we need to be able to pass that litmus test. I'd get people round the table and get busy understanding all the strings that need to be pulled for our fisheries to be truly worldclass. The legacy I'd like to leave would be that I'd restored unity between the public, the industry and the environmental needs of our fisheries.
12. How has Covid-19 impacted on your business?
We mainly supplied restaurants, so when Covid kicked in that pretty much shut overnight and we've had to widen out our customer base. The marketplace has changed massively. I see a lot more companies reaching out to sell fish direct to consumers online which is a fantastic outcome. Getting the retail value for our fish back to our fishing companies means they are then resourced to do a better job. That's a big part of the puzzle that's been missing for a long time. I'm hopeful that Covid has improved their confidence in chasing that pathway.
13. What do you think fishing in New Zealand should look like 100 years from now?
It should look abundant, humane and very focused on monitoring and responding to the environmental cues that the ocean itself will give us.