Reel Questions is a commentary series providing an insight to the opinions and experiences of individuals who have ties with our fish life and marine environment whether it be their livelihood, playground, creative influence, culture or simply a part of their lives. They all have a varied relationship with our coast and fish.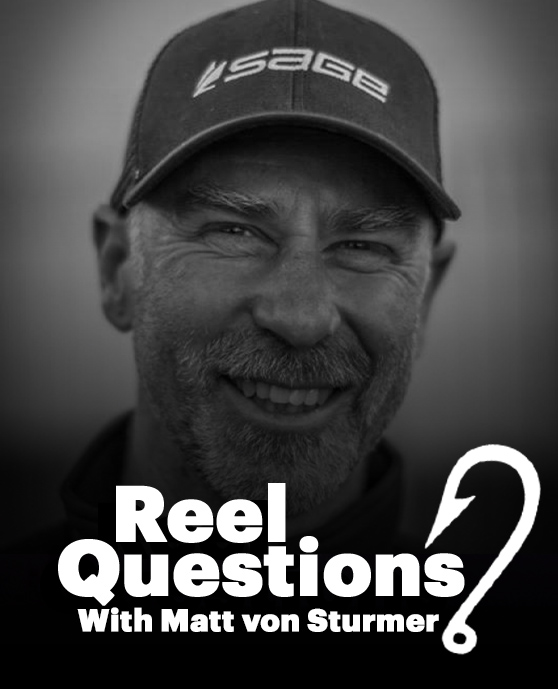 Matt von Sturmer has been fishing the waters of the Hauraki gulf for over 35 years with an obsession with saltwater lure fishing. He now operates Salt Fly Fish guiding and charters off Waiheke Island, supplemented by his solid bronze door handle business "Blacksandbronze", which he shares with his wife Carmen Sosich.
The Salt Fly Fish guiding business continues to grow with regular charters, workshops and events. He has visited Aitutaki and Kiritimati chasing bonefish, trigger fish and giant trevally where he got to see the advantages of low impact, high value tourism.
1. Do you recall your first fishing experience? 
As a kid, I spent hours as a 'wharf rat' at Birkenhead – no shoes, no lunch, no sunblock – you just grabbed a handline and went. Growing up in that whole wharf culture is such a dear, important part of a Kiwi experience. Another memory is from Ngunguru Estuary where we'd camp. I remember sitting on a rock and I hooked something really large – probably a stingray, but in my mind it was something incredible. A kid in a canoe got excited and went through my line so the memory's a combination of amazement and horror.
2. If you were to go back to the same places today, would the experience be any different?
You can still catch fish at Birkenhead Wharf but it's far more developed and there's restrictions on which parts of the wharf you can fish. It's one of those places that if I'm driving by, I feel compelled to go and have a look. Even though it's a little depleted, I'm confident that if I really put the effort in, I could catch a feed.

Ngunguru, I revisited a couple of years ago with a fly rod and it completely rekindled that feeling of child-like fascination with prospecting those waters. We caught some snapper on the low tide in a little recess in the channel. The shellfish beds in the estuary, like many around the country, have suffered from run-off and sediment over time.
3 What's your favourite fish and how would you prepare it for the table?
Kahawai continues to be a favourite to catch and eat. As a saltwater fly fisherman, it's just such a good fish to pursue; that amazing interaction of following the birds, then the bait fish and then seeing the kahawai on the surface. I carry saltwater ice but I'm not too obsessed about bleeding the fish because I believe that some of that flavour is what's so special about the kahawai. Eating them fresh is the trick – you just can't beat a really good ceviche.
4 How has Covid-19 affected your saltwater fly fishing charter business off Waiheke Island?
It's killed the international market. That was predominantly based on fly fishing tourists who were tagging a saltwater experience onto the beginning or end of a trout fishing trip. Some overseas clients had such a good time they'd book a whole week with me. That market disappeared overnight, like it did for many people. But I've also had a really loyal bunch of locals on the island and round the country. The challenge is to repackage what I'm doing to meet the local market.
5 Is there enough opportunity in the domestic tourism market?
The potential's huge. The appetite's there – it's just finding a price point that locals are prepared to pay that can allow me to deliver an uncompromised experience. It takes time to coach people into effective casting because it's a ridiculously intricate way to catch fish. It's basically a hunting exercise – there's no bait or burley – and I'm going a step further in limiting our fishing to floating lines because I believe the ultimate saltwater fly fishing experience is in very shallow water. If I can help locals catch fish in shallow water that they previously believed needed deep water, low light, bait and burley, that's an eye-opener for them.
6 Waiheke Island is a popular jewel in the Hauraki Gulf. How do you think that popularity will impact on your local fishing waters?
Because I fish in a low impact way, I don't need to catch big fish or lots of fish so I'm not concerned about more people fishing on 'my patch' so to speak. We're all tourists and we're all locals so there's a lot of opportunity without undermining each other's experience or the environment.
7 There's a lot of talk about marine reserves around Waiheke. What are your thoughts?
Marine reserves are an important tool in the kit for managing human impacts on the marine environment. They have a role in protecting areas with unique habitats, but I get concerned when they're seen as a blanket answer. I've even referred to them as a 'dumb solution' because they ignore the complexities of the marine environment and lack the intelligence of coming up with the most strategic and effective ways of restoring abundance. They're not a substitute for good fisheries management.
8 If you were appointed the Minister of Fisheries tomorrow, what would you do first?
I'd have a really good look at the Quota Management System. It was a good thing when it was introduced but it's evolved into something that deserves proper investigation. Everyone's saying it needs to evolve apart from those who are heavily invested in exploiting the advantages that it's giving them. There's a pyramid effect; a small number are taking advantage and the environment is suffering. The fact that the kahawai – the people's fish – is now threatened and tarakihi near collapse makes it obvious that we need to have a proper look at the QMS. It's a no brainer and the time is right.
9 Covid-19 is having a significant impact internationally. Do you think it will have an impact on things like food security that affect the way we fish and manage our fisheries?
One thing Covid did for us as a planet was it solved the question of whether we could stop consuming so much. Suddenly we were all locked down and we did stop. It raises valid questions like do we really want to be bulk harvesting seafood for relatively low value export dollar with the associated by-catch issues, marine mammal and seabird deaths and damage to the seafloor? Or do we want to reinvent our fisheries and be more self-sufficient as a nation? Commercial fishing could become more value orientated so we're exporting less but getting more.
10 What do you think fishing in NZ will be like 100 years from now?
I'm an optimist. I think we have the ability to reinvent our old attitudes. We need to stop the conflict between all the opposing interests and come together on this mandate of healthy oceans. Here in NZ we've got the opportunity to utilize matauranga Māori – traditional knowledge – the very best of science, fisheries management and citizen fishing – the idea that you can go and catch a feed of fish from a local beach. We can still have commercial fishing and tourism but we need to evolve our human behaviour towards the goal of restoring abundance and resilience.