Reel Questions is a commentary series providing an insight to the opinions and experiences of individuals who have ties with our fish life and marine environment whether it be their livelihood, playground, creative influence, culture or simply a part of their lives. They all have a varied relationship with our coast and fish.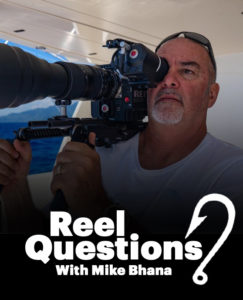 Mike Bhana has been producing, directing and shooting documentaries for the past 30 years, including documentaries for Discovery, Animal Planet and National Geographic. He has also worked on Discovery Shark Week shows for 2020 and has produced 28 films exclusively on sharks over his career. Mike's work has resulted in a dozen international awards for excellence. 
Mike and his company Wild Film specialise in South Pacific and New Zealand content, including the National Geographic Asia TV series Fish of the Day. The Price of Fish is his latest offering, a film from the heart, about the environment on which he depends for his work and wellbeing.
1. Tell us about your earliest fishing or diving experience. 
As a young kid we had summer holidays in Tairua, Coromandel. We would go out the back of Shoe Island in my father's 13ft Sea Nymph boat, a long way offshore in those days. Seeing a work-up in the distance Dad drove into this feeding frenzy of yellowfin tuna and I can remember them being nearly as big as the boat. It was a little overwhelming.
2. If you were to return there today would anything have changed? 
Absolutely, there are no yellowfin. We've seen a few in recent times, but nothing like we used to see in those days.  That is just one species whose numbers have dropped dramatically.
3 On your 'Fish of the Day' TV show seafood features highly. What's your favourite seafood and how do you prepare it?
I love all of it! I grew up in a household where we ate lots of seafood. My favourite food would be paua, thinly sliced, with soy, garlic, a little bit of honey, flash fried, beautiful.
4 When filming sharks have you ever felt like you've bitten off more than you could chew?
Yes, big makos can be exciting. Makos over 2.1 metres behave differently to the smaller ones who think you're another predator, so they tend to keep their distance. At maturity makos come at you thinking, "I can eat that".
I remember doing experiments in Australia where the shark shield was attached to a whole bluefin tuna. A 2.5 metre white shark was circling around. It wouldn't come close so we swam out from the shark cage, and then a 5 metre female turned up.  She circled around. You could see her hit the shield then turn away and we thought this was great, it's working.
Over time she would come a bit closer, then you could see she'd made the decision to eat. She came over and took the bluefin from above our heads. Then we had a mad dash back to the shark cage.
5 You have filmed and dived in many exotic locations. How does New Zealand rate as a diving destination?
New Zealand is the best diving destination in the world, for variety within a short space of time. At the Poor Knights and Alderman Islands you can see the numbers of fish, a variety of species, and many sizes of fish. At the Poor Knights you've got 20 kilogram kingfish drifting through, you've got clouds of blue maomao and trevally. In the Pacific most of the fish are relatively small.
6 Recently you released the documentary 'The Price of Fish'. What did you learn most from making that?
About 3 years ago we were asked to replace a film made in the 90s, but we soon recognised there weren't enough animals to replicate it. So I started talking with LegaSea, other organisations and commercial fishermen. I soon realised that our fishery is in real trouble and something needed to be done.
It's hard for people to get a picture of what's going on because you've got fish being sold  with the blue tick, implying they've been caught sustainably. And because of the big-budget PR, people believe that.
It's important that people understand the bad state of our fishery because we're at a turning point.  Some of our fish stocks are on the brink of collapse and once we go over that it's going to be incredibly hard for us to restore them.
7 Fisheries management in NZ is a big task. If you were appointed the Minister of Fisheries tomorrow what would you do first?
The Quota Management System has to go, it's 30 years old and never achieved what it was supposed to. I don't think the Treaty has been honoured correctly. We need to elevate Maori to be Kaitiaki [guardians] alongside Government, to build a taskforce to examine how we rebuild our fisheries and management system, then we can harvest more fish, easier, and employ more people. There are many economic and personal advantages if we rebuild our fisheries.
8 Covid-19 has had a global impact. What impact do you think it will have on the way we view our own marine environment?
Using Hawaii as an example, they have about 3 weeks of food. If the ships and planes stop coming they have no way to feed themselves. Here in New Zealand we are really lucky. Making sure we retain our food sovereignty is vitally important, as is the ability to feed our people at reasonable prices. Eating fish at $40 a kilo is not realistic for many families.
We need to think about looking after our own if another pandemic comes along. That includes reviewing how we manage our marine ecosystems that provide us with all of their goodness.
9 Are we doing enough to promote New Zealand's marine tourism potential?
No. The Poor Knight Islands are one of the best diving locations in the world. Cousteau rated it as one of his top 10, an extraordinary accolade. If we promoted and protected the swordfish fishery rather than over-exploiting it for commercial exports we would earn far more per kilo. Recreationally, swordfish is the ultimate fish to catch. Tourism fishing tends to be catch and release and people spend huge amounts of money just for the experience. Our fisheries need to be protected so they can grow, then we can promote swordfish tourism fishing along with recreational fishing.
10 What will fishing be like in NZ 100 years from now?
It's going to be great. New Zealanders are smart enough to do something about the current state of our fisheries. It is important that we work together with Maori to return the abundance of fish. Matt  Watson recently said, "What if we were the first generation in the world to hand on a better fishery than the one we inherited?" Right now we've got the opportunity to make sure we do that.