Reel Questions is a commentary series providing an insight to the opinions and experiences of individuals who have ties with our fish life and marine environment whether it be their livelihood, playground, creative influence, culture or simply a part of their lives. They all have a varied relationship with our coast and fish.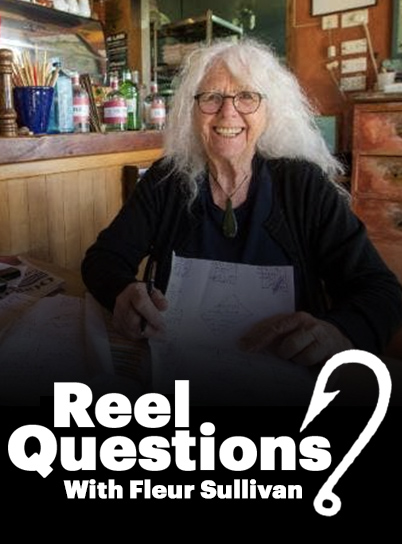 Fleur Sullivan is the owner of award-winning restaurant Fleur's Place in Moeraki, a restaurant so renowned in the foodie scene, famous chef's such as Rick Stein have come all the way to this little Southern abode to eat the seafood she has to offer. Her menu revolves around whatever is caught by her fishermen that day, providing a unique experience where her fish comes straight from water to plate. Quota owner, hunter-gatherer, food visionary – Fleur is true treasure.
1. Can you remember the first time you ever connected with fish and the sea from the perspective of catching or gathering it yourself?
Growing up on a farm on the riverside of the Waitaki river, as kids we would catch fresh kōura and other freshwater fish. By horse, or by foot, I remember going to the wild coast where dad would fish in the brackish water for salmon, and where we would collect seagull eggs to eat. We didn't have a boat, so when we wanted fish from out in the deep blue, dad would trade salmon for flatfish and other species in Oamaru. People would give us fish frames and waste, and we would use it as fertilizer for our asparagus patches.
I remember one time where dad caught a shark and put it in the bathtub at home. The next day, I went into the bathroom and saw the shark had given birth to a whole lot of baby sharks – That was a memorable time.
2. If you were to go back to that place again today what changes if any would there be in accessing that same opportunity?
I'm unsure if there would be more or less fish in the Waitaki as there were when I was young. I have friends who live near braided rivers flowing into the Waitaki, and they feed big eels around there. People still fish down those braided rivers – The fishing village on the Waitaki river fish for whitebait and also for different ocean species.
People who hunt and fish lead a good life of being providers for their family, and there were lots of people like that where I grew up – Self-sufficient. In accessing that same opportunity, I think people don't really love those kinds of lifestyles anymore.
3. You spent many years in Clyde establishing the much recognised Olivers. What took you to Moeraki to establish Fleurs Place?
Clyde was the furthest place from the ocean in New Zealand. When I had cancer, I knew it was going to be difficult to run Olivers while I was undergoing chemotherapy treatment. I knew I wanted to go back near the ocean, and I remembered many years ago when I drove through Moeraki, thinking – I want to live there sometime.
I didn't think I was going to create another restaurant. I came here to live right on the ocean, to gather seaweed, shellfish, be in and around the ocean. I was going to create my own rock habitat so I could grow and harvest my own mussels, leaving the small ones to grow fat and juicy and then harvesting them. I bought a house on the hill, and I could see seagulls going down to the beach to eat shellfish – When I saw this I would run down there, and get my share of the tuatua off the seagulls.
Interested, I started going out on some fishing boats, and watched what the fishermen would pull up. Every time I saw them fillet, and chuck the heads, frames, and wings off the side, I kept thinking of what I could've done back at Olivers with all this so-called 'fish waste' they were throwing off the side. The fishermen kept remarking that it looked like I wanted to jump in after it.. And I said 'Yes, I do!'  But I was faced with the challenge of what to do with all the waste without a restaurant.
I came up with the idea to create fish stock out of these excess bits, and save the planet from a bit of waste. Nothing was wasted, everything would go back into the food chain. I thought I could do a lot with it for people who weren't as connected with this way of life as we were. I could put the stock into bags, go to food banks, and talk to communities how to make fish soup. That was 22 years ago, and it was challenging convincing people that they would want fish stock all. I ended up making fish stock and fish soup and selling it out of a little caravan – Eventually customers started bringing chairs and tables and I thought it time to expand…My kids thought I was nuts opening up another restaurant.
4. Why is Fleurs Place so unique as a concept when in fact New Zealand is surrounded by small coastal towns with seafood on their doorstep?
Our fish brings tears to peoples eyes, the fish tastes like the fish their fathers caught. All the seafood is locally caught by my fishers, and we use every single part of the fish.
What is really beautiful is when people from asian countries such as China come, and they see us maximizing utilisation of the fish. They really really love the offcuts. Everyone gets the bits of the fish they love.
We fillet on site, smoke the heads, use the wings in our dishes, and make our own fish stock. The stock is a routine part of life at Fleur's place, and in a month we make well over 150 litres, using one species at a time so we know the exact flavours.
People from all over the world say they thought when they came to New Zealand, a place surrounded by sea and seafood, that they would find more restaurants like mine. It appears difficult to do this here, but it shouldn't be at all.
I feel a huge pride for the fisherman here. I go to the local bar and when I hear people ask what locals do, everyone mumbles they are fishers. When I was there once, I heard someone ask one of my guys what he did, and he said 'I fish for Fleur'. Hearing that just about made me tear up, I felt proud. These guys work long and hard for the fish, and usually once they get back to port, the fish is gone out of sight. With my guys, the fish comes and goes directly to the restaurant. Everyone knows where it goes.
5. Your menu is full of wonderful fresh and seasonal seafood however what is your most favourite seafood dish to prepare and serve to yourself?
Whatever's been cooked by mistake! We don't make heaps of mistakes, but there's my stock answer. It's the surprise that does it for me, but otherwise one of my favourite fish to eat is hāpuku.
6. I believe you own some quota. Is the Quota Management system serving the fishers and the restaurateurs of New Zealand's coastal towns?
I don't know of many restaurants in New Zealand that have the same opportunity I have. I bought my own quota for blue cod, and for a few other species here and there. We get whole fish delivered from my fisherman, so we can fillet them here. We fillet, smoke and waste nothing. I had to buy my quota, because I had to know directly how and when fish would go to the plate.
7. If you were the Minister of Oceans and Fisheries right now what might be something you would like to see changed or evolved?
I would be going out on fishing boats by myself with fishermen, I would do my own independent research, and I would go on a little boat and find out about the processes. I think it's important to experience what the day in the life of a fisherman is about. It is long, hard work.
In this village, we look to the ocean, not the town for our livelihood, It is a town of fishers.
We can't destroy the beautiful system that nature has created for us. Life in New Zealand must be protected, and we all have a part to play in that.