The long awaited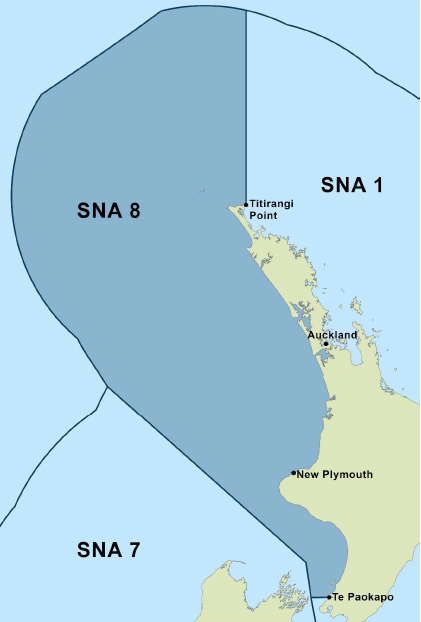 consultation for Snapper 8 (SNA8) is underway and we are busily working through the government's proposed changes on .
SNA8 is a fisheries area situated along the west coast of the North Island from North Cape to Kapiti (see map). The fishery was almost trawled to extinction during the 1970s and 1980s, bottoming out at 7% of the unfished biomass in 1985. After 35 years of rebuilding the fishery is finally in good shape, reaching an estimated biomass of 54%.
Now with a return to relative abundance, Fisheries NZ is proposing to increase the Total Allowable Commercial Catch (TACC) by up to 1300 tonnes! This would mean a massive increase in bottom trawling and could jeopardise the recovery. It would also have unknown consequences for other species in the area, such as red gurnard, tarakihi, john dory and trevally. There are no biomass estimates for these species so their status is "unknown".
Public submissions are now open, closing on the 27th July 2021. NZSFC and LegaSea are putting together a submission that will recommend that any increase to the TACC should be kept to a minimum. We will be sharing this submission when we have it and we will be providing tools and information for the public to make their own submissions.
LegaSea will be participating in a number of meetings to inform and discuss the review, starting with a meeting this Wednesday. Please come and join us:
6.30pm Wed 7th  July
Titirangi RSA
502 South Titirangi Rd
Titirangi
Public welcome.
Details of further sessions in other locations will be shared when details are confirmed.
Our expert fisheries team at the New Zealand Sport Fishing Council will be submitting a substantial submission in response by the end of the month. Follow the LegaSea Facebook page for updates.
In the meantime, Fisheries NZ will be hosting public drop-in sessions across the North Island to provide information to those that want it, starting tonight at Kaitaia.
Once again it is unfortunate that Fisheries NZ is limiting public involvement in the consultation by hosting only drop-in sessions rather than meetings to hear and discuss the various opinions from interested parties. The consultation stage has also been accelerated, allowing only 24 working days  for public submissions. We don't think that's good enough for one of our most important fisheries in the country. Moreso given that there are 12 other reviews happening over the same timeframe.
The full list of these sessions are as follows:
Monday, 5 July 2021

Kaitaia
Te Ahu
Corner South Road, Church and Matthews Ave
Kaitaia
Drop-in between 6pm to 8pm
Tuesday, 6 July 2021
Whangarei
Northland cricket Association clubrooms
Cobham Oval
79 Okara Drive
Whangarei
Drop-in between 6pm to 8pm
Wednesday, 7 July 2021  
Porirua
Mana Cruising Club
5 Pascoe Avenue
Ngatitoa Domain
Paremata
Drop-in between 6pm to 8pm
Monday, 12 July 2021
New Plymouth
Fitzroy Bowling Club
2 Baring Terrace
Strandon
Drop-in between 6pm to 8pm
Tuesday, 13 July 2021
Auckland
Mangere Mountain Education Centre
100 Coronation Road
Mangere Bridge
Drop-in between 6pm to 8pm
Thursday, 15 July 2021
Hamilton
Western Community Centre
46 Hyde Avenue
Hamilton

Drop-in between 6pm to 8pm
For information from Fisheries NZ on the full set of reviews, click here.