Media release
1 December 2021
Widespread support for Waiheke rāhui
The Minister's approval for a two-year temporary closure to fishing around Waiheke Island has drawn praise from divergent groups.
The declining numbers of scallops, mussels, crayfish and pāua has prompted Ngāti Pāoa to declare a rāhui banning all harvest of these species around Waiheke Island for two years and the Hauraki Gulf community is celebrating the Minister's approval, effective now.
"Waiheke Island is a special place in the Hauraki Gulf and clearly there are species that are depleted and in need of a rebuild. The New Zealand Sport Fishing Council has been supportive of customary fisheries management measures in other areas around the country. We appreciate the Minister's latest decision in support of Ngāti Pāoa and the Waiheke community and their fisheries", says New Zealand Sport Fishing Council president Bob Gutsell.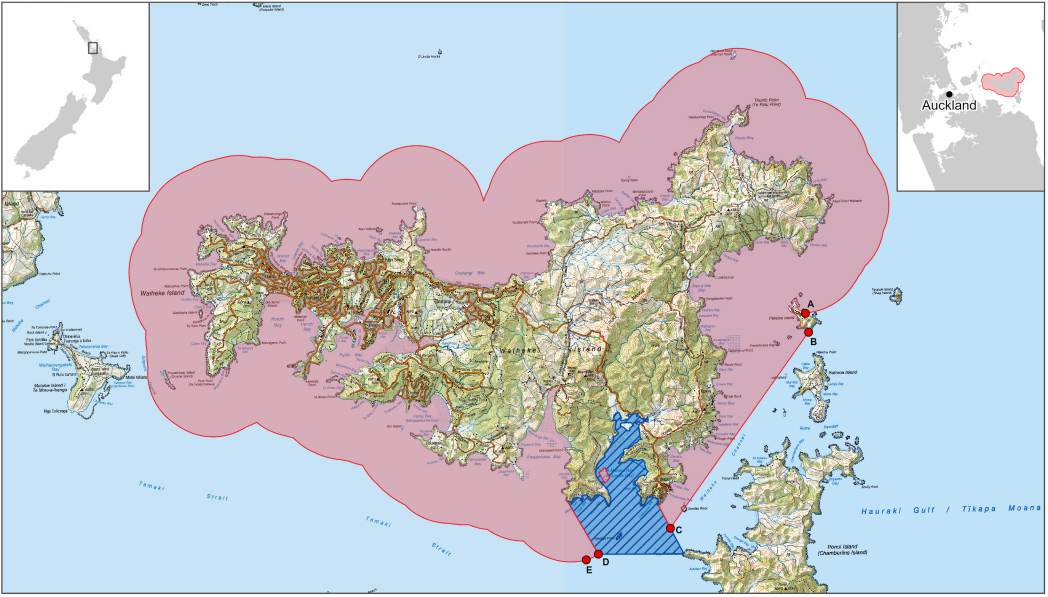 The decision by Minister Parker to approve a request for a temporary fisheries closure by Ngāti Pāoa demonstrates the relationship between mana whenua and the Crown.
Mook Hohneck, Chair of Ngāti Manuhiri Settlement Trust says, "We acknowledge our whanaunga from Ngāti Hei, Ngāti Tamatera and Ngāti Pāoa for taking strong measures to protect the Hauraki Gulf. Ngāti Manuhiri are also moving to advance further protections for taonga species in the northern waters of Te Moananui o Toi".
"Our members are pleased the Minister has chosen to support the rāhui that has been in place since January. It's an exciting development for the Waiheke community and because it shows the Minister is listening to our collective concerns. We need to be doing more to protect these species that used to be prolific around the islands of the Gulf", says Outboard Boating Club of Auckland Commodore, Phil Allen.
"Earlier this year Ngāti Hei was successful in gaining Ministerial approval for a ban on scallop gathering around the eastern Coromandel. We're very pleased that Ngāti Pāoa have been successful with their temporary closure application. The next step is considering how the Hauraki Gulf community can work together to support the various initiatives being applied around the Gulf", say Ngāti Hei Rangatira Joe Davis.
LegaSea is concerned the depletion of these important shellfish species is symptomatic of the failure of fisheries management in the Hauraki Gulf and around the whole country.
"We're really pleased for Ngāti Pāoa and the Waiheke community. It's a pity they have had to wait 10 months to get approval, but that just reflects how fraught fisheries management is in Aotearoa. We have communities up and down the coast wanting greater protection for their kai moana yet Fisheries New Zealand seem to be asleep at the wheel. Thankfully the Minister has responded to the Waiheke iwi and community concerns and decided to give these vulnerable species a break", says LegaSea leader Sam Woolford.
The New Zealand Underwater Association has also supported the rāhui since January and will be working with its members to encourage compliance with the two-year temporary closure.
Ngāti Pāoa announced the original rāhui at a customary ceremony on Oneroa Beach, Waiheke, in January this year. The rāhui ceremony was attended by several hundred people including representatives from the recreational fishing organisations and Hauraki Gulf communities.
ENDS
https://www.nzsportfishing.co.nz/fisheries/fisheries-management/customary/
https://www.ngatimanuhiri.iwi.nz/
https://www.ngatihei.iwi.nz/ngati-hei-present-coromandel-scallop-restoration-plan-to-hauraki-gulf-forum/
Section 186A temporary closure
Waiheke
https://gazette.govt.nz/notice/id/2021-go5129
Closure area map
https://www.mpi.govt.nz/dmsdocument/48754-Waiheke-Island-Temporary-Closure-Map