Labour and the Green Party have both come out in support of an inquiry into the management of New Zealand's fisheries, leaving National as the only party which has declared itself unwilling to look into the issue in the lead up to the election.
ACT, TOP and Mana have not responded to requests for a position statement on fisheries.  Labour and the Greens join New Zealand First, the Māori Party, United Future and the New Zealand Outdoors Party who have all called for an inquiry of one form or another.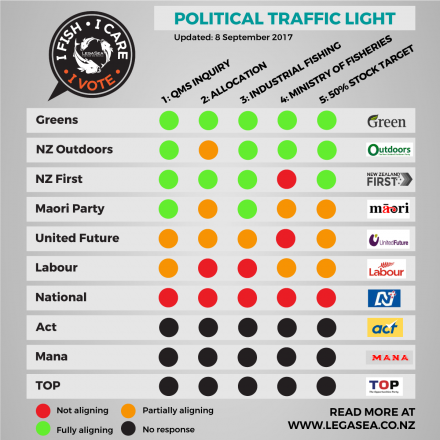 LegaSea spokesman Scott Macindoe says he's heartened by the response from the parties.
"It's great to see the political parties taking this issue seriously. New Zealand has some of the world's best fisheries and unfortunately, we are squandering that abundance. The future of our fisheries is at stake and it is vital that we act now to restore abundance and ensure future generations of Kiwis get a fair go"
LegaSea has called for a Royal Commission of Inquiry after a long series of failures by the ministry responsible for looking after fisheries for all New Zealand. The Heron Report into the Ministry for Primary Industries (MPI) and its lack of prosecutions over fish dumping was the final straw after years of internal report writing, hand-wringing and ongoing study from the ministry.
LegaSea says enough is enough.
"We have a ministry that has allowed large scale industrial fishing to destroy the environment and the fisheries, and in the process deprived local fishermen of their livelihoods and local communities of a vital source of food. MPI is focused on doubling the value of New Zealand's primary sector exports, yet in chasing that goal it has forgotten its role as protector of the fisheries.
"Instead of building up a quality-driven market, MPI has enabled industrial fishers to sell large quantities of New Zealand fish overseas for less than $3.00 per kilo with much for less than $2.00 a kilo. It's not right when families at home in New Zealand are unable to eat fish or send their kids to school with lunch."
Overfishing, large-scale dumping of fish, destruction of the benthic environment and depletion of  native species are signals that New Zealand's quota management system is not living up to its supposed "world leading" reputation, says
LegaSea, and it is up to the ministry to control the wastage and put a stop to this madness.
"The minister has been asleep at the wheel and allowed this culture of turning a blind eye to develop. If he won't put a stop to it, it's high time we had a minister who has the gumption to stand up to the industry and call time on such behaviour."
LegaSea has published its Manifesto calling for five key policies to be introduced and has compared each party's policies with that Manifesto. The results are available at: www.legasea.co.nz/ifishicareivote along with the party's position statements.
ENDS
For more information please contact:
Paul Brislen
[email protected]
021988896