Always one of the highlights of our year, the Hutchwilco New Zealand Boat Show in Auckland never fails to impress, and 2017 was no exception. The LegaSea team love to be amongst the buzzing atmosphere the show creates, talking with the public and getting their views. The messages of support from people is inspiring and reinforces the importance of what we are collectively trying to achieve – a more abundant fishery in the future.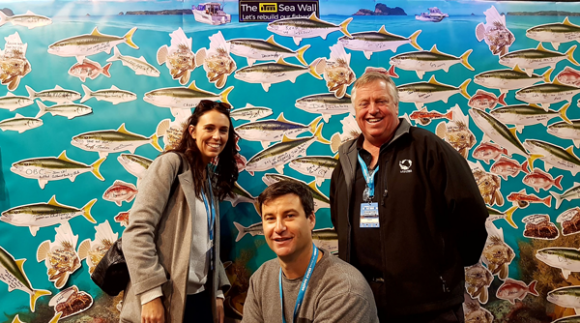 Our ITM Sea Wall was a hit, encouraging people to make a small donation so they could choose a fish, write a message, then stick their fish on the Wall, adding to the effort to rebuild our fishery. One fish at a time, person by person, family by family, we demonstrated how many people share in the vision of a healthier marine environment.
The public launch of our latest project, FishCare, couldn't have been at a better location. FishCare – The school of best practice outlines ways in which recreational fishers can do their bit to reduce fishing impacts on the marine environment. It was a successful launch receiving positive reviews from those who stopped for a look. If you missed us at the show you can take a look at FishCare here.
Our presence at the show wouldn't have been as successful without the support of our partners. The 2017 Hutchwilco Boat Show organisers who donated the stand space, ITM for the Sea Wall, Hunting & Fishing donated 1,000 LegaSea branded rod racks and Daiwa donated two Saltist 6500 reels for a stand prize. These special contributions and the continued support of all our other partners is vital to the ongoing success of LegaSea.
For LegaSea, this show is just another example of why we need an abundant fishery and healthy marine environment. An event like this just wouldn't succeed without our fisheries, and this is just a portion of the economy generated from marine recreation. With over 150 exhibitors and thousands of patrons, the importance of having a healthy fishery has never been clearer.
A big thanks to those who took the time to stop and chat, sign up and donate. You are champions. It is your ongoing support and feedback that keeps LegaSea on the right track. It is always great to see the passion in people's eyes when they start to talk about our oceans. It is clear that people no longer accept having to make-do with the leftovers after our fish have been scooped up and shipped offshore.
Reforms are required and a dedicated, independent Ministry of Fisheries is a priority. That Ministry must be free from capture of large quota holders and the constraints of farming and forestry. A Ministry able to focus on restoring fish abundance and ensuring healthy ecosystems is surely in everyone's best interests.